What will you do with your WaterBrick Containers?
There are many options for water storage these days. The challenge is to find a container that is easy to store and easy to move when you need to. The WaterBrick container, storing 3.5 gallons of water, is about the right balance between capacity and having the ability to move it. When filled with water, it will weigh only 27 pounds. A 5 gallon container weighs over 40 pounds.
A mix of water storage approaches is a good idea and the WaterBrick can play a key role. Your water storage plan might look like this:
-A 55 gallon barrel, not easily moved, but handy to have at home in an emergency.
-A WaterBrick container for each family member, stored in an out of the way location, but easy to grab. You can access your three day supply of water and carry it away on a moments notice.
-Individual plastic bottles for water refills.
-A LifeStraw Personal Water Filter or other compact water filter for extended scenarios.
WaterBrick containers are durable and stack-able. They have interlocking male & female components for stability and easy stacking, which is useful. They can be used as containers for water or food, since the container, lid and gasket are all made of BPA free and FDA compliant materials.  They have a wide mouth opening, so an average adult can reach their hand inside, plus a carry handle makes moving the brick easy for long distances on foot and, if necessary, it is easily detachable.
Some specifications from their website:
Standard Size WaterBrick  3.5 gallon container
9″ Width, 18″ Length, 6″ Height
Weight Empty – 2.52 pounds
Half Size WaterBrick 1.6 gallon container
9″ Width, 9″ Length, 6″ Height
Weight Empty – 1.17 pounds
Weight of Standard WaterBrick Plastic Storage Containers when filled with:
Water  – 27 pounds
Long Rice  – 25 pounds (264 adult servings)
Pinto Beans – 23 pounds
Sugar  – 27 pounds
Salt  – 38 pounds
Dog Food  – 15 pounds
I got together with a group of my blogging colleagues to share this giveaway that is sponsored by Food For Health. We are giving away an 8-Pack of WaterBricks to one lucky winner. Water is number one on my preparedness list! Enter for a chance to win!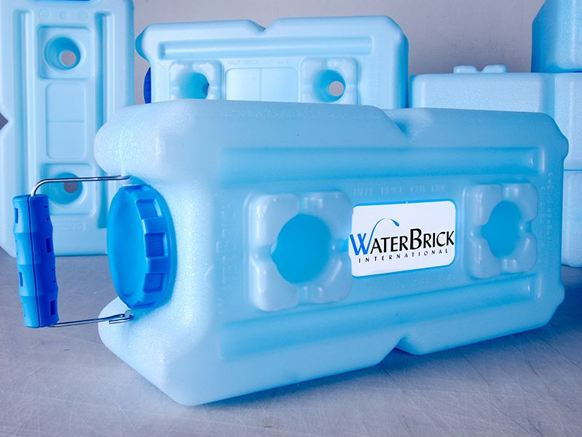 WaterBrick Stackable Water and Food Storage Container: 3.5 Gallons of Liquids or up to 27 Pounds (264 Adult Servings) of dry foods. Made of rugged, high-density polyethylene (HDPE with an easy grip comfort handle.
Better than Other Bulk Storage Drums or Tanks: WaterBricks stack like bulk storage but are individually easy to move for Grab & Go taking your water where you need it. Compare WaterBrick to typical filled 55 gallon drums or tanks that are impossible to move or take with you if you are forced to leave your home during an emergency.
Here are the bloggers involved in this giveaway:
1. Food Storage Moms
2. Are We Crazy Or What?
3. Home Ready Home
4. Survival For Blondes
5. The Rural Economist
6. Mom With A Prep
7. Imperfectly Happy
8. Fabulous Farm Girl
9. The Survival Mom
10. Prepared-Housewives
11. Food Storage and Survival
12. Whole New Mom
13. Prepper Website
14. Madtown Preppers
15. Mama Kautz
16. Apartment Prepper
17. Timber Creek Farm
18. Preparedness Mama
19. The Backyard Pioneer
20. The Busy B Homemaker
21. Trayer Wilderness
22. Common Sense Homesteading
23. Sharing Lifes Abundance
24. Survival At Home
25. Five Little Homesteaders  
26. Backdoor Survival
Learn more about or purchase a WaterBrick here
a Rafflecopter giveaway
This giveaway is sponsored by Food For Health and the following rules apply: One winner will be chosen and that said winner will have 48 hours ro reply to the email that is sent to them. Please check your SPAM folder. If the winner does not respond within the 48 hours another winner will be chosen. This giveaway is open to anyone who is 18 years of age or older and must reside in the 48 Continental States. We will only ship to the 48 Continental States. This giveaway starts on Monday August 4th at 5:00 am (MDT) and will end on August 10th at 5:00 pm (MDT). Good luck to everyone!
Preparedness Mama and its collaborators have created a one-stop shop of critical resources for families looking to prepare for disaster. We know firsthand that getting ready for the worst with a big family poses some particular challenges.
We've learned from the past so that you don't have to make the same mistakes again. Fear of the unknown is one of the scariest things in life, but we hope that Preparedness Mama's treasure trove of practical advice will make that unknown less daunting and ultimately help take the scared out of being prepared for every single one of our readers.