Raw honey contains many wonderful characteristics that make it so healthy and the perfect sweetener. It is 'a good for you food' due to all the vitamins, minerals, enzymes, and pollens present in its raw state. It has many purposes. Besides using it as a healthy sweetener, raw honey has so much more to offer. Raw honey has many medicinal properties and rewards:
It is naturally anti-bacterial
Apply is to a wound to help it heal faster
Raw honey can help stabilize many body functions
A couple of tablespoons of honey stirred into hot tea can lessen the symptoms of a cold or flu -(add lemon too!)
It can even help you lose weight
Studies have proved that honey reduced overall cholesterol levels when taken daily
Need a quick energy boost? Get energy instantly
Take a teaspoon 3 times a day to help alleviate seasonal allergies
Add cinnamon to that 3 tsp a day. It can boost your immune system and fight off a cold or sore throat
A spoonful of honey can soothe a cough caused by a tickle or sore throat.  Honey mixed with equal parts coconut oil makes a wonderful skin conditioner
Raw honey increases the production of antioxidants in the bloodstream
Cox's honey is produced and gathered among high mountain clover fields. It is water white in color, mild tasting, and has all the consistency of pure clover honey. Once gathered, their delicate process of extraction and packaging assures that you purchse the best product on the market. During the packaging process, they neither over heat, pasteurize, or add moisture to the honey. Cox's does not filter the honey as this will remove a lot of the nutritional characteristics of honey. They simply run the raw honey through a set of screens to retain all the vitamins, minerals, and pollens that make honey healthy
As with most products, the closer you can get to the actual source, the better off you'll be. Short of scooping the sticky stuff directly from the hives, you can't get better than getting it directly from the beekeepers at Cox's Honey!
Cox's Honey Group Giveaway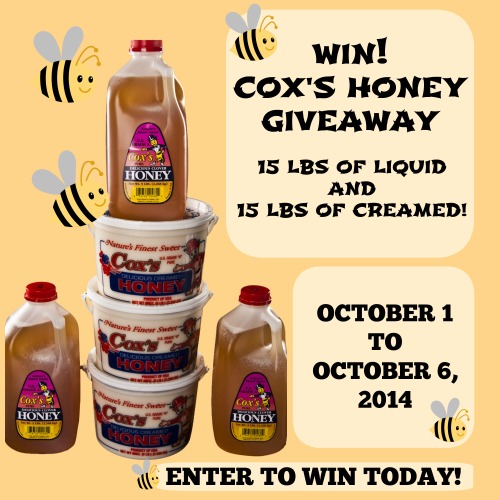 Today we are hosting another Cox's Honey Group Giveaway so our readers will have a chance to win some raw, unfiltered, pure honey. Cox's honey is sponsoring this giveaway today and we want to thank them for giving us this opportunity.
Cox's honey is raw and unfiltered honey. The company was started back in 1880 in Orderville, Utah by Delaun Mills Cox. Mr. Cox produced enough sweet honey for the entire city before moving the operations to Shelley, Idaho. Delaun kept his beehives going more like a hobby. But after World War I he began making more money as a hobbyist than his previous holdings.
During the following years honey prices became depressed and in 1925 his son, Orville S. Cox took over his bee business. Orville made the bee business his tool of trade for his livelihood and raising his family. He produced, packaged and sold clover honey.
This Cox's Honey Giveaway is open to any resident who is 18 years of age or older who lives in one of the 48 US Contiguous States.
This giveaway starts on Wednesday, Oct. 1st at 5:00 am (MDT) and ends on Monday, Oct. 6th at 5:00 pm (MDT). The winner will be notified by email and will have 24 hours to respond. If we do not hear back from said winner in the designated time period of 24 hours we will choose another winner and they will have 24 hours to respond from the time the notification email is sent. Please check your SPAM email folders. Good luck to everyone!
Let's be prepared for the unexpected!
a Rafflecopter giveaway

Preparedness Mama and its collaborators have created a one-stop shop of critical resources for families looking to prepare for disaster. We know firsthand that getting ready for the worst with a big family poses some particular challenges.
We've learned from the past so that you don't have to make the same mistakes again. Fear of the unknown is one of the scariest things in life, but we hope that Preparedness Mama's treasure trove of practical advice will make that unknown less daunting and ultimately help take the scared out of being prepared for every single one of our readers.