All American Sun Oven Giveaway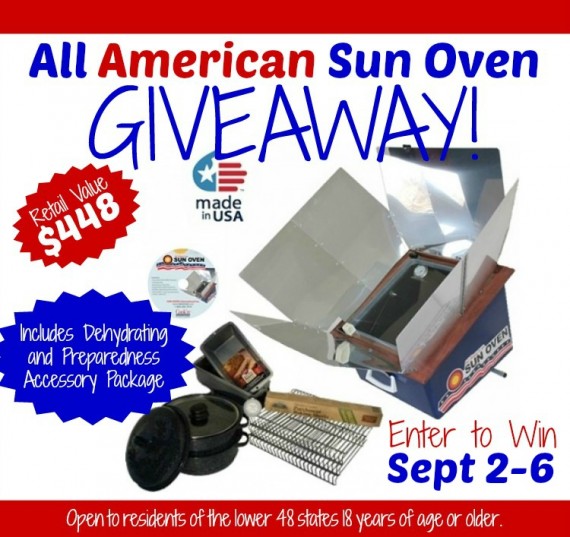 *The sun oven reaches temperatures of 360 to 400 degrees Fahrenheit! Plus it is made in USA*You can bake, boil, or steam foods*You can even boil or pasteurize water*Dehydrate fruits, vegetables, or jerky*Slow cook or cook in comparable time to conventional stove tops or ovens*As Portable as a Small Suitcase — Only 22 lbs!*Totally safe — no danger of fire
As you may know by now, September is National Emergency Preparedness Month. It is sponsored by the Federal Emergency Management Agency (FEMA), within the Department of Homeland Security. Americans are encouraged to take the necessary steps to prepare for any emergencies in their homes, businesses, schools, churches, neighborhoods and communities. We need emergency planning in order to get back to business after a terrorist attack, a tornado, flood, landslide, fire, etc. We need to plan before the disaster strikes us unexpectedly. Have a plan and talk about the plan with family, co-workers and neighbors. If we put some plans into action before we need them we will be much better prepared for the unexpected.
The bloggers involved today are:Food Storage MomsI Get ReadySurvival At HomeFrugality GalSharing Lifes AbundanceTrayer WildernessThe Busy B HomemakerThe Prepared NinjaKneaded CreationsThe Backyard PioneerMemories By The MileSurvival For BlondesTimber Creek FarmHome Ready HomeCommon Sense HomesteadingFabulous Farm GirlEver Growing FarmPrepared-HousewivesLil' Suburban HomesteadFood Storage and SurvivalBlue Yonder Urban FarmsSimply Living SimplyWhole New MomPreparednessMama
This All American Sun Oven Giveaway is open to any resident who is 18 years of age or older who lives in one of the 48 US Contiguous States. This giveaway starts on Tuesday, Sept. 2nd at 5:00 am (MDT) and ends on Saturday, Sept. 6th at 5:00 pm (MDT). The winner will be notified by email and will have 24 hours to respond. If we do not hear back from said winner in the time designated time period of 24 hours we will choose another winner and they will have 24 hours to respond from the time the notification email is sent. Please check your SPAM email folders. Good luck to everyone! Let's be prepared for the unexpected!
September is National Emergency Preparedness Montha Rafflecopter giveaway
Preparedness Mama and its collaborators have created a one-stop shop of critical resources for families looking to prepare for disaster. We know firsthand that getting ready for the worst with a big family poses some particular challenges.
We've learned from the past so that you don't have to make the same mistakes again. Fear of the unknown is one of the scariest things in life, but we hope that Preparedness Mama's treasure trove of practical advice will make that unknown less daunting and ultimately help take the scared out of being prepared for every single one of our readers.